Vocations Committee Chair : Vacant
The Vocations Committee has the responsibility for
Promoting various spiritual, religious, and vocational programs.
Direct youth queries regarding a religious vocation first to a parish priest. Then the youth may contact the diocesan vocations office at 817-560-3300
One way all of us in Scouting or not can encourage our seminarians as they prepare for the priesthood. Here are names and addresses of our diocesan seminarians. Consider sending these young men greetings at Christmas, Easter, and their birthdays. Suggest messages for your youth members to write inside greeting cards: "We ask God's blessing on you as you prepare for the priesthood." Or: "Thanks for choosing to obey God's call to serve him more closely as a priest." OR: "We pray that God will bless and inspire you as you study for the priesthood." OR: Any meaningful message. If you are asking your youth members to take part in the greeting card program, make sure the parents have O.K.d that participation.
Christmas Thank You Cards
All Catholic Scouters are encouraged to send Christmas greetings to their local clergy–by hand or mailed to priests and religious AND by mail to seminarians–using the
attached roster
of seminarians. See also the
matrix to photocopy
, cut apart to make two cards, and send. Or use another, appropriate, religious theme Christmas card.
Priesthood Sunday
World Day for Consecrated Life
February 2, 2021, units associated with Catholic institutions should send a note to all religious in their parishes thanking them in celebration of
World Day for Consecrated Life
.
Prayer for Vocations
Almighty and eternal God, in your unfailing love you provide ministers for your Church. We pray for those whom you call to serve the Church of Fort Worth
as priests. Inspire in them a generous response. Grant them courage and vision to serve your people. May their lives and service call your people to respond to the presence of your Spirit among us that, faithful to the Gospel and hope of Jesus the Christ, we may announce glad tidings to the poor, proclaim liberty to captives, set prisoners free, and renew the face of the earth.
Prayer for Vocations
Loving God, you call all who believe in you to grow perfect in love by following in the footsteps of Christ your Son. Call from among us more men and women who will serve you as religious. By their way of life, may they provide a convincing sign of your Kingdom for the Church and the whole world. We ask this in Jesus' name. Amen
World Day of Prayer
Sunday April 25, 2021, is being celebrated as
World Day of Prayer for Vocations
. One suggestion of how a Catholic sponsored Scouting unit—or any group of Catholic Scouts – might mark the day is to send a greeting of thanks to your parish priests. Simplest greeting could say: "Thank you for your vocation and for your support of Scouting on World Day of Payer for Vocations." Have all your Catholic Scouts and Scouters sign the greeting or note and present it via e-mail, U.S. mail, or in person by a couple of your uniformed Scouts. A thank-you goes a long way with anyone.
Serra Club
The Serra Clubs of the Metroplex sponsor a yearly weekend of discernment for any man or woman, 18 through 40 years of age. It is designed to help youth determine if they MIGHT have a religious vocation.
For more information, type into your browser
vapinfo.org
Spiritual bouquets
The last Sunday of September is celebrated as Priesthood Sunday. It is a day that the faithful are asked to show their thanks to their clergy. Sending spiritual bouquets is one way to do that. Leaders are encouraged to involve their youth members in any show of appreciation.
Priests Who Were Scouts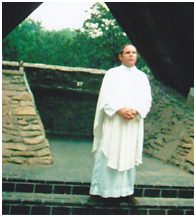 Catholic Committee Chaplain at the 15th Anniversary Retreat (Fr Joe Scantlin)
Although we do not know of all the vocations that may have resulted from our program,
here are a few:
Msgr Joe Scantlin
Retired Vicar Joe Schumacher
Fr Jonathan Demma
Msgr Gene Witkowski
Fr Tim Thompson
Fr David Nichols (Deceased)
Fr Wilson (Deceased)
Fr Keith Hathaway
Fr John Hennessey
Fr. Eric Groner SVD
Both Bishop Kevin Vann and Bishop Michael Olson experienced the Cub Scout program when they were boys.